Sabroxy and Modafinil, generally, are used for their attention, wakefulness, and calming chemical properties making them useful in disorders related to cognitive development and enhancing focus, memory, attention, and motivation, basically ADHD. But this is a generic explanation about Sabroxy And Modafinil Medicines. Generally, they seem to be similar in nature but these medicines are just as different in working mechanisms and functioning.
Hence we bring you a detailed analysis blog based on Sabroxy vs Modafinil. This blog will help you understand different aspects of both medicines with respect to each other.
What Is Sabroxy?
Sabroxy is a nootropic(medicinal drug related to improvement in learning and memory of the human brain) prepared from Oroxylum Indicum, an Indian trumpet tree, containing Oroxylin A. Oroxylin A is a Flavonoid, a chemical compound, that has a potential role in cognitive and neuronal functions. Ayurveda mentioned that the extract of this herbal tree, Indian trumpet, is extremely beneficial and has medicinal properties that help in fighting inflammation and calming the mind. Since then it has traditionally been used by many for severe disease cures.
What Is Modafinil?
Modafinil, in medical terminology, is a non-amphetamine/non-psychostimulant agent whose dose promotes wakefulness in the patient. In simpler words, the dose of modafinil has effects on Catecholamines(these are hormones that work as neurotransmitters) ultimately resulting in a good attention span and in wakefulness as well. Modafinil also fights insomnia-related problems.
This medicine fights Narcolepsy by activating glutamatergic circuits and, on the other hand at the same time, increases the inhibiting pace of the GABA (gamma-aminobutyric acid is the main factor responsible for human brain neurotransmitters).
Uses Of Sabroxy and Modafinil: Detailed Elaboration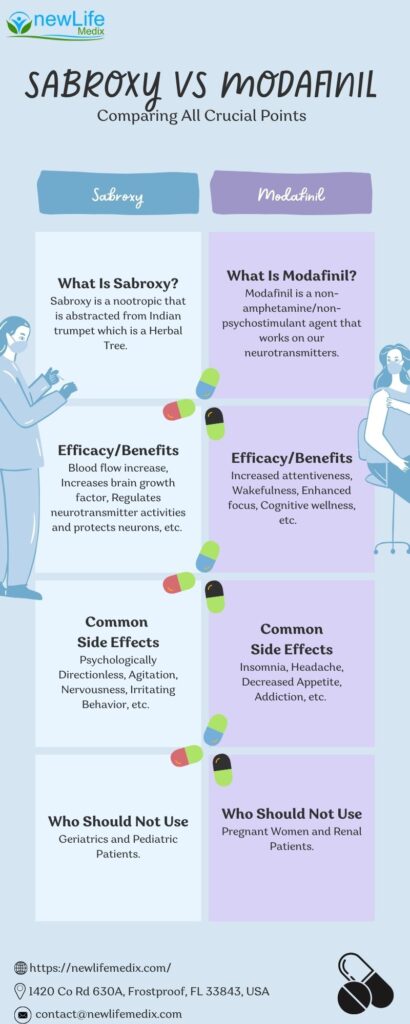 Sabroxy Uses and Needs:
A Research Report published in September 2014 in Brain Research Bulletin suggested that Oroxylin A facilitates memory consolidation. This report fetches the attention of medical experts making Sabroxy a potential candidate for promising doses for regenerative medicine resulting in cognitive, and neuronal function. It is also a good treating agent for enhanced concentration and focus.
As age progresses, the occurrence of some common neurodegenerative diseases like Alzheimer's disease and Parkinson's disease is very likely due to decreasing levels of Brain-derived neurotrophic factor (protein molecule associated with brain function) abbreviated as BDNF. It decreases in proportion to the stress level in the human brain, not limited to age factor. BDNF functions by modulating and modifying the neurons as it has neuronal plasticity. Neuronal is vital for learning and memory capabilities. Thus, the proper level of BDNF may be vital in preventing several diseases including diabetes mellitus.
Uses Of Modafinil:
US Food and Drug Administration (FDA) certified Modafinil is used for narcolepsy, a chronic neurological disorder. FDA approved this drug for neurological disorder cure. But in recent times many medical experts and medical practitioners have prescribed this drug off-label and on-label for narcolepsy, work shift sleep disorder, excessive daytime sleepiness (EDS), and obstructive sleep apnea-like disorders.
Many trials and studies suggested that taking the proper amount of doses accordingly can improve cognitive performance. Interestingly, many trial studies observed that it enhances working memory under stressful conditions and nonstressed conditions. Although under non-stressing conditions the results were better. A general observation about Modafinil is its result showing significant improvement in cognitive performance.
Sabroxy vs Modafinil: Side effects
Modafinil has psychoactive effects on patients while Sabroxy can have Nootropic affecting symptoms. Both drugs are used in cognitive and brain-related disorders or diseases but their symptoms are neither common nor mixed. These medicines can cause patients to face some serious issues on overdose, stopping the medicine abruptly, or consuming it for a long period of time.
The use of these medicines has symptoms based on various factors like patient vulnerability to infections, comorbidity, and severity of the condition.
Side Effects Of Sabroxy:
The Problem Of Connecting Socially.
Can Cause Addiction, Level Depends Upon The Individual.
Psychologically Directionless
Mood Swings
Irritating Behavior
Agitation
Depression
Hallucinations
Nervousness
Rare Thoughts of Self-Harm
Side Effects Of Modafinil:
Insomnia
Anxiety
Nausea
Headache
Decreased Appetite
Dizziness
Addiction
Most vulnerable who are prone to exacerbate their condition.
Geriatrics
Pediatric
Pregnants
Renal
Which Is Better, A Comparison of the Benefits Of Sabroxy vs. the Benefits Modafinil Of?
The benefits and side effects of Modafinil and Sabroxy are given in the below table.
MEDICINE
BENEFITS
SIDE EFFECTS
Modafinil
1. Increased attentiveness
2. Wakefulness
3. Enhanced focus
4. Cognitive wellness
1. Although using modafinil has seen rare toxicity cases, it is not 100 percent safe.
2. Dry mouth
3. Abnormal heartbeats,
4. Imbalance in blood pressure,
5. Sleep deprivation
Sabroxy
1. Blood flow increase
2. Regulates neurotransmitter activities and protects neurons
3. Increases brain growth factor
4. Provides aid in cognitive and neuronal functions, and enhances concentration and focus.
1. The problem of connecting socially can occur.
2. Can cause addiction, level depends upon the individual.
3. Psychologically directionless
Ideally, we cannot compare these, Sabroxy and Modafinil, medicines because of their different composition, properties, and diverse applicability. Generally speaking, Sabroxyis recommended to students and tertiary sector individuals to enhance their focus and increase in attention time-span while Modafinil is prescribed to patients with progressing age-related weaknesses and disorders related to cognitive health and memory.
Bottom Line:
Each of the drugs, Modafinil and sabroxy is used for specific cures and purposes. One should not use these interchangeably. You should go to your medical practitioner for a prescription. In case you have a proper prescription for these/ or any drug, Take the dose as prescribed and reach the nearest medical facility if you see any of the above-mentioned side effects or symptoms.
Read More: